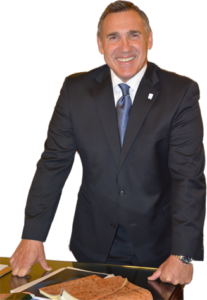 Richard "Mo" Molezzo was born and raised around the court system as the son of a court reporter. It was during his youth that Richard's father, along with his uncle Robert Molezzo, established a very successful court reporting business. Richard was constantly around attorneys and judges, and would often go to court proceedings to watch attorneys and judges practice their craft. He quickly grew to love the law and recognized the talents required to do it well.
Noticing their teenage son's growing preference for sports over studies, Richard's parents enrolled him at Bishop Manogue High School where he could benefit from a more structured goal orientated education. As his study habits grew in this new environment, so did his respect for the value of hard work, both outside of the classroom, and by those who performed it. By his early twenties, Richard's résumé included grocery store bag boy, [his first taxable job at the age of 14], plumber's assistant, valet, bellhop, hotel security officer, warehouse stocker, dishwasher, landscaper, and apartment manager.
While his resume was diverse, so was the range of people he got to know and learn from. Working alongside people from all walks of life, backgrounds and economic circumstances awakened Richard to an unfortunate truth: that the protections in the U.S. Constitution aren't always extended to lower-income individuals who are unable to afford an attorney. When Richard decided to enter law school, he did so with an untarnished belief that everyone in our Democracy–no matter their financial situation–deserves representation, a voice if you will, against the bias and power that can be overwhelming in dealings with local, state, and federal governments.
Richard Molezzo, Attorney at Law
In his career as an attorney, he has proudly and successfully defended clients unjustly charged with crimes, at times adjusting his fees in order to take the cases where the accused had difficulty in paying for his representation. Years in legal practice coupled with his unfettered desire to help any attorney with their own case, (even his competition) has earned Richard a "posse"
of top-notch attorneys and other legal pros on whom he can depend on for counsel and assistance on all cases. When people hire Richard for his service, the "posse"
comes with him. A firm believer in due diligence, Richard often holds focus groups before a trial to learn what, besides law itself, may strengthen a case–from what colors a jury likes best to what time of the year is best to influence a verdict in favor of his clients. Richard cares about his clients; and when he stands before a jury, he looks them straight in the eye and asks them to choose justice–not vengeance.
Beyond the Courthouse
A lover of the outdoors, Richard spends weekends working in the yard, scoping out new fishing spots and making annual pilgrimages to fly fish the Truckee and hunt Elko County's Lamoille Canyon. A committed family man, Richard is noticeably proud of his brother, John Molezzo–both for acting as legatee of their father's business, as well as for his artistic talents. Most encounters with Richard include a showcase (often on his smartphone) of John's art, some of which graces this website. Most of all, Richard is devoted to his wife and love of his life, Windy.
Inspired by his parents 50+ year marriage, Richard makes sure to make time for Windy, even just to "stop and smell the roses." At any other time, you can find him hard at work – fighting to defend his clients with every fiber of his being.
You've got a right to justice.
Don't get left settling for less.